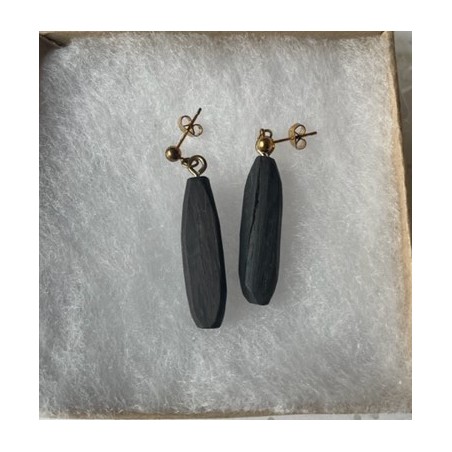  
Bog-oak Stud / Drop Earrings
Handmade Bog-oak and 9ct gold plated earrings
Security policy
(edit with the Customer Reassurance module)
Delivery policy
(edit with the Customer Reassurance module)
Return policy
(edit with the Customer Reassurance module)
Description: Handmade Bog-oak and 9ct gold plated earrings.
Modern, Elegant, Lightweight, Geometric.
Material: Bog-oak. Most of the bog-oak we use is in the range of around 5-thousand year old. The Bog-oak is almost black, which is it's natural colour due to a very old age. 
We do not use any chemicals to darken the wood. The only addition to the wood is tung oil we use for a final polish.
Process: Handmade
Packaging
Eco-friendly
The outer box is made from nearly 100% recycled boxboard.
The boxboard is made from FSC approved forests.
Brochure and cards are printed on FSC approved paper.
Recyclable
The outer box is recyclable.
Inserts are not recyclable yet in Ireland. When recycling the packaging please remove the insert.
Brochure and cards can be recycled.
No customer reviews for the moment.